It is real, when life cuts short a love story, we can collectively retell that story with our support and contributions.
KEF in partnership with you celebrates the International Widows day 2022.
International Widow's Day 2022
Widows in Ogun and Lagos State
KEF Visit to widows in different communities
Karis and Eleos hand of hope foundation was registered in 2018 and we have empowered over 12 000 women and trained them with business and life skills. We are a non-profit organization with the focus on empowering the rural women and girls in communities with minimal or no access to opportunities.
Dependencies reached out to
Dependencies reached out to
Join us as we support these widows
Mrs. Abass left had to move into her father's uncompleted building with her 5 boys after the demise of her husband. They currently sleep on a mat from hand to mouth.
Looking at the plight of Mrs. Bola, a disabled widow living in Oworoshoki area of Lagos state, who against all odds discomfort herself to make ends meet for she and her children.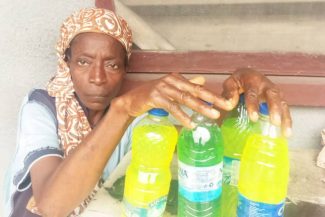 Mrs. Yetunde needs a better apartment.
She sleeps in a bus parked on her street when it rains, because her house is flooded. Her children dropped out of a public Scholl because she cannot afford their text books
Karis and Eleos hand of hope foundation
Join us on this life transformational shift for a widow in dire need.
KARIS and Eleos Hand of Hope Foundation
Sterling Bank
0084999994 (Naira Account)
Sterling Banking
IBAN – 0085278951 (Dollar Account
Through you, a widow can be supported, advocated for and stood by in an unfavorable environment and harsh living condition.